Bruce R. Cordell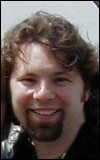 Identité

Biographie
Né à Waterdown (Dakota du sud), Bruce R. Cordell obtint un diplôme en Environnement, Population et Biologie des Organismes à l'université du Colorado. Alors qu'il travaillait comme assistant-chercheur, il apprit à synthétiser de l'ADN, mais il ne put résister à l'attrait de la conception de jeu.

En 1995, après quelques années comme indépendant et contributeur d'un monde virtuel en ligne au format texte (le MUSH Elendor, inspiré de Tolkien), il abandonna la science pour un poste d'auteur chez TSR, maintenant Wizards of the Coast.

Ses nombreux crédits d'auteur comprennent le Psionics Handbook, le Sunless Citadel, et le Epic Level Handbook. Il gagna le prix Origins pour Return to the Tomb of Horrors, et une nomination pour à la fois If Thoughts Could Kill et pour son travail sur le Manual of the Planes.

Bruce vit à Seattle (état de Washington), avec son épouse Dee (et leurs chien et cinq chats). En plus de son métier présent d'auteur de jeu, il est en plein travail sur son second roman. Enthousiaste de science et technologie, fou de santé, il aime le roller et les randomnées.

Ouvrages Professionnels

Cette bio a été rédigée entre le 8 mai 2000 et le 8 mai 2009. Dernière mise à jour le 16 avril 2010.